Sabbath Morning Worship Service 10:50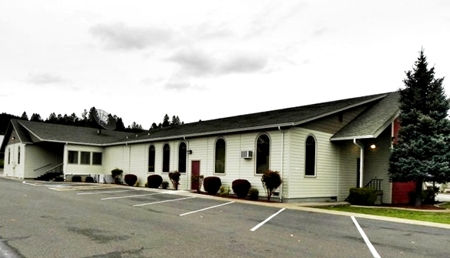 For directions and contact information please use our main menu to the left.

 WELCOME TO THE
Sutherlin
Seventh- day
Adventist Church
website

Our Mission is to proclaim the Everlasting Gospel of Jesus Christ to the world through acts of service and by sharing knowledge of God's love with our community.
If you are looking for a family where you can grow spiritually by becoming involved, then this is the church for you. 

update 053120;

Dear Sutherlin Seventh- day Adventist Church family and community

    Together we are experiencing unprecedented times, and the COVID-19 situation is changing rapidly every day. As we navigate these uncharted waters as a global community, the health of our Church members, visitors, and neighbors is our #1 priority. On behalf of everyone here, we want you to know that first and foremost we are thinking of you and your families' well-being. Taking care of yourselves, and each other, is what is most important right now.

    Pastor Scalfani discussed these matters before his sermon on 053020. We will be having church services beginning June 6, 2020, lasting no more than 90 minutes. This time is what the Oregon Conference has specified. The services will be live in the sanctuary, and video will be broadcast in real time to the ALC and the School. On June 6 if we are still limited to 25 persons per building as specified for Phase 1, our total capacity on campus will be 75.  We do not know what precautions the State will specify for Phase 2, and we cannot be certain whether we will even be in Phase 2 by June 6, so our plan for now is to continue to observe precautions as they have been for Phase 1. Social distancing of 6 feet will need to be continued, there will be no hugging or hand shaking. Please continue to exercise good hygiene for your health and that of your family and others.  

     We will be having our long- awaited yard sale in the gym, on Friday June 5th, and Sunday June 7th from 9:00 AM to 3:00 PM.

    Please also refer to the Calendar on the Coming Events page. 

    We see signs of Jesus returning soon all around us. There are droughts and fires, pestilences, earthquakes, and grave social challenges. The list of signs is endless. Look up, for Our Savior draws nigh. The Coronavirus is a real wake up call to all of us. The final events will happen very quickly. I really believe Jesus is coming soon. I know you do too. But in the meantime we have a work to do to prepare our neighbors, friends, family and ourselves to meet Our Savior. Praise God, He has provided grace for us to work out our own salvation and help others too!

    How are we going to call attention to Jesus' soon return and prepare people for it? Right now, we need to press together and seek God. The virus has unfortunately forced us apart. But we need to find creative ways of pressing together and turning this situation into a special time of seeking God individually and corporately. We need a deeper experience with the Lord so that we can know God's will for Sutherlin. This "down time" should be seen as an opportunity to really seek God diligently and wholeheartedly. We don't have time to waste. Jesus is coming soon. We need to redeem the time (Eph 5:16).

    I would like to recommend that we not allow Satan to get the upper hand in this crisis. Let us press together. Although, we can't meet in large groups, we can still meet online and in small groups in our homes.

    Bible study Monday- Fri, 7:30-8:00 PM:
I want to invite you to be part of something new. I will be starting a daily Bible study group using an online service called "go to meeting." This is an online service that allows us to see each other and talk with each other in an online conference room. This meets every evening from Monday-Friday 7:30-8:00 pm online. Mark it down on your calendars!
If you have a computer or smart phone you can join the conference room and see everyone. If you only have a landline or a flip phone, you can still join and be part of the conversation, but you just can't see anyone.
We will going through the Sabbath school quarterly together. This will be a great opportunity for us to go deeper than we normally do because each day we will be focusing on one lesson at a time.

    How can you be part of this? Please take note. It is very simple. Follow these directions.

    Three steps for computer or smart phone:
    enter on your web browser: JoinGoToMeeting.com. Download the App
    Enter meeting ID: 496-903-397

    Two steps for a phone:
    Dial: 1 (646) 749-3122
    Enter Access code 496-903-997
    It is that simple. See you there!

    (Tips: Make sure you turn on the sound/microphone when you get into conference room. There should be a microphone symbol at the bottom of the screen. The sound is off if there is a line going through the symbol. You also have to press a button just under the image you see, to send the rest of us the video feed of yourself.)

     Sabbath School online class at JoinGoToMeeting.com
     as shown above; 
     9:00- 9:50 AM for Sutherlin, then 10:00 AM for Winston church
     This SS class began 4/25 for Sutherlin 

     Prayer meeting Wednesdays at 7:00- 7:30 PM;
     We will also be having prayer meeting on Wednesdays. But instead of meeting at the ALC, we will be praying online on Wednesday at 7:00. Follow the same instructions as for the Bible study. We will be using JoinGoToMeeting.com. See you there!

     Let me end this letter by reminding you that I have my office hours on Thursdays from 10-12 noon. Feel free to come and talk. The office is next to the sidewalk, at the corner towards the freeway. We will keep you informed and let you know when your church is ready to reopen. Sermons are available at the links below, and informaton about other programs is available below. You can also bring your tithe and offerings and pick up your Sabbath school quarterlies. There will be a deacon there to receive your tithe and offerings. May God help us to be faithful so that the work can continue uninterrupted, for the need is great.
     
     We have a precious school and church. We need to continue to maintain these institutions so that they can continue being a blessing.  

     Tithes and Offerings may be mailed to the Church or to our treasurer Nona, or may be returned online at AdventistGiving.org.

     Please know that your Pastor and the elders are available to help you during this time; you may call Pastor Scalfani at 541-671-3645 about the meetings above, or anything else on your heart.

     The Sabbath School lesson is available on Hope TV and Amazing Facts. The quarterlies are available at Amazing Facts text is available at ssnet.org and study guides and more are here.

     There is a special online series prompted by the Covid 19 situation. It began April 4,2020 and all the episodes of this series are now available online. Please come to https://maxlifeevents.com/answers/ to register for this video series that reminds us that God is in charge and we have a solid foundation for our hope. 

     We want to do everything we can to help keep your faith and connection to Jesus alive and well. 

     We're here for you now and into the future. We are all united and stronger together. We look forward to welcoming you back into our location soon. Stay healthy and be well and may God bless.

     Thank you for being so supportive. 

                                                             God bless,
                                                             Pastor Andre


             Announcements this week as announced at the sermon;

Mark Herscher is the presiding elder this week; please contact him with any needs.

God has been generous and kind to us, and it is our privilege to support His work in the world. Tithes support the pastors and teachers in the Conference; and Offerings support the local church and school, and the world Church. This week, the offerings support Oregon Conference Youth ministries. At this time of financial stress, let us remember that we safe in the Father's hands and He will provide for our needs according to His infinite wisdom. 

See listings of past sermons at the main menu-

Share with friends and family